BOAT RENTALS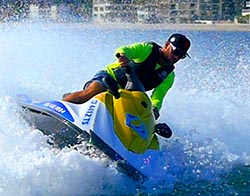 JET SKIS & WAVE RUNNERS
Starting at $95 | Everyday
Easy to ride. Easy to maintain. Easy to have fun. The VX has a longer seat for an extra roomy feel and the same extended rear platform as the rest of the VX lineup, so you always have a place to relax and hang out between rides. And world-renowned Yamaha reliability makes this WaveRunner the number one choice for rentals everywhere!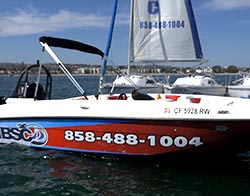 SKI BOATS
Starting at $150 | 8 People Max
Most Popular!
The 185 Sport has sizzle, check out the reverse sheer line and the dramatic raked windshield, and substance in the extra-deep cockpit and bow. It's the winning combination of style and substance that make the Sea Ray 185 Sport the best selling boat.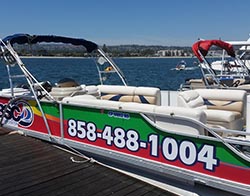 PONTOON BOATS
Starting at $130 | Max capacity of 16
When you're looking for a way to create more special time with your family, our Pontoon boats are a family boat that's worth its weight in gold. Kids, grandparents, everybody gets a charge out of being together out on the water.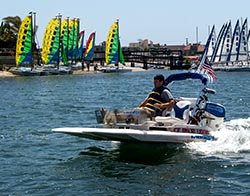 CRAIG CAT
Starting at $75 | 2 People Max
Most Unique Experience for Thrill Seekers!
Introducing CraigCats, the most unique and exciting watercraft in town! These 2 person catamaran styled motorboats are designed for maximum stability and comfort. If you're looking for excitement and comfort, take the time to experience a ride on one of our CraigCats! The 11'4″ CraigCat is 5'5″ wide and can reach speeds of up to 30mph. 250lb size limit per person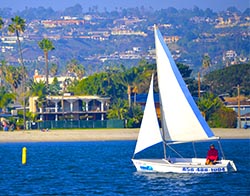 CATALINA 14.2
Starting at $30 | Max 4 People
Perfect for beginners
The Catalina 14.2 is the perfect combination of day sailing comfort and racing performance for the active sailing family or couple. Stability and easy handling make the 14.2 an ideal boat to learn in, while the experienced skipper will enjoy the active one design racing class.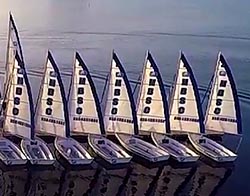 CATALINA 16.5
Starting at $35 | Max 6 People
Plenty of room for family outings
The Catalina 16.5 boasts a big roomy cockpit, and large storage locker forward, making for ideal family outings. The Keel model is perfect for storing the boat on a mooring or dock most of the season. A molded-in sealed bilge sump is included. The high aspect keel is cast lead and attached with stainless steel keel bolts.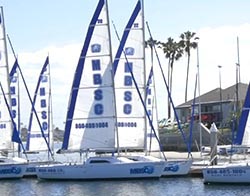 CAPRI 22
Starting at $45 | Max 8 People
Known for its sweet sailing performance in nearly all conditions, the Catalina Capri 22 has been winning sailors since it's introduction. The Capri 22 is more comfortable, safer at sea and easier to maintain than any boat in it's class. The striking deck profile is flared across the stern and has wider cockpit curves for crew comfort during and after sailing.
HOBIE WAVE CATAMARAN
Starting at $35 | Max 2 People
Sail solo or with a friend and discover the Wave's remarkable quickness and agility. Bring the whole family and experience the Wave's great carrying capacity and stability.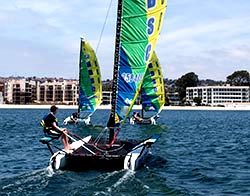 HOBIE GETAWAY CATAMARAN
Starting at $45 | Max 6 People
Perfect for family cruising!
The Hobie Getaway is the "social boat" of Hobie Cat's rotomolded catamaran line. With significantly more hull volume than the ever-popular Hobie Wave, plus huge carrying capacity, the Hobie Getaway comfortably accommodates six adults. Or take the whole family out for a comfortable evening cruise.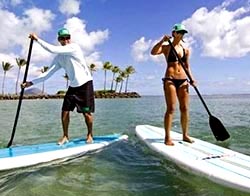 PADDLEBOARDS
Starting at $18
A perfect family board designed for both ocean and lake paddling. A great big guy surfing SUP in waves from 1' to 8'+!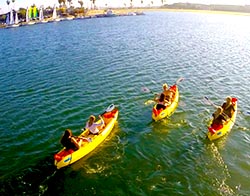 KAYAKS
Starting at $18 | Single and Tandem
If you want a 9 foot kayak that can't be beat, the Mini-X is the right kayak for you. The perfect Recreational kayak for beginners and experienced paddlers. All kayaks are rigged with a comfortable high back-rest and a light paddle.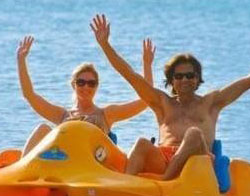 PEDAL BOATS
Starting at $20 | 2 Person and 4 Person
The Water Bee 200 is a commercial-duty boat, built tough for heavy duty use in any water environment. With our patented 5-blade hydrodynamic drive system, the WB200 offers a faster, quieter ride than most conventional pedal boats.