2023 SUMMER CAMP!
STARTING AT $295
Join us for our 2023 Summer Camp at Mission Bay Sportcenter!
Our campers will spend their summer on the water paddleboarding, sailing, swimming, and learning new and exciting games and activities!
SANITATION
Our staff is dedicated to sanitation during the COVID-19 pandemic. Cleaning measures have been heightened and sanitation supplies have been increased
STAFF
All instructors are drug tested and background checked. Each class is taught by instructors who have proven their ability and expertise in a specialized area. The entire camp staff is trained in First Aid,CPR and Water Rescue, making sure that learning is safe and fun.
SAFETY
Water Safety is stressed in all classes. Basic Swimming skills as well as feeling comfortable in the water are a must. All campers are given a swimming assessment the first day of camp.
STEP 1
Purchase your voucher(s) by clicking 'Buy Now' and wait until you receive your confirmation email that contains directions on how to sign up. Your confirmation email may take up to 24 hours to arrive.
STEP 2
Use our navigation bar, or Scroll down and choose between our programs for 6 to 8-year-olds, 9 to 10-year-olds, and 11 to 16-year-olds.
STEP 3
Use your voucher code to register in our Registration Software Amilia to sign up for the weeks you'd like. Please note there will be a Concessionaire Recovery fee of 10% due per voucher at the time of registration.
LIMITED SPOTS AVAILABLE
Below items are only available for our Multi-Sports camps
After you purchase the vouchers, you will receive an email within 24 hours with your voucher codes! After that, you must register your child. Here is a step-by-step guide if you need help!
About
For 40 years, Mission Bay Sportcenter has been San Diego's premiere water sports facility. Experience boating, jet skiing, sailing, stand up paddle boarding, kayaking, bicycles, pedal boating. and more! If family fun in the sun is what you're looking for, we've got you covered.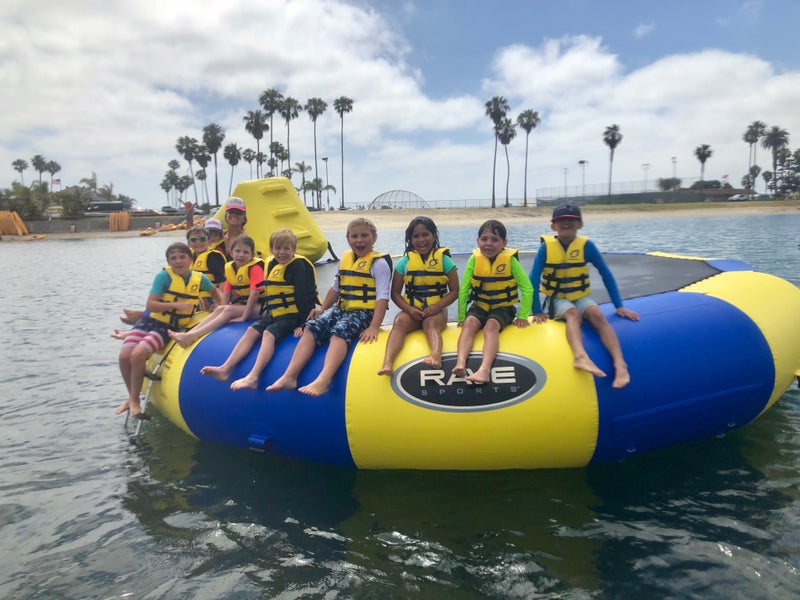 Location & Hours

Mission Bay Sportcenter
1010 Santa Clara Pl
San Diego, CA 92109
(858) 488-1004
missionbaysportcenter@gmail.com

Get Directions
HOURS SUBJECT TO CHANGE
Monday 9:00am – 6:00pm
Tuesday 9:00am – 6:00pm
Wednesday 9:00am – 6:00pm
Thursday 9:00am – 6:00pm
Friday 9:00am – 6:00pm
Saturday 9:00am – 6:00pm
Sunday 9:00am – 6:00pm