MALARKY CHARTERS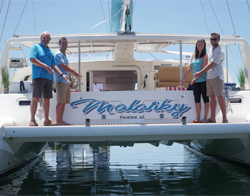 MALARKY LUXURY CATAMARAN
We want you to feel as if this is your catamaran, your captain, and your crew as you embark on your adventure or host your corporate event aboard our beautiful yacht in San Diego. Just book, relax, and sail…
Every Malarky charter comes with its own crew to take care of the details, the vessel, and you. We take pride in our customer service and strive to provide friendly captains and staff to ensure that your charter is enjoyable, safe, and easy throughout the entire booking process.
Choose from multiple cruise options, including: Corporate Events, Group Events, Family Fun, Sunset Cruises, Wind & Wine, La Jolla Tours, Weddings, Whale Watching, Movie Night, Sailboat Racing, Ashes at Sea, or Custom Adventures.
And for even more fun, level up with these available add ons: Stand Up Paddle Boards, Ocean Kayaks, Aqua Lilly Pad, Water Slide, Jet Skis, Snorkeling, and Drinks & Apps.
SPECS:
Length: 47′
AMENITIES INCLUDE:
Four Queen Beds

Full Kitchen

Outdoor Lounge Deck and Dining Table

Indoor Lounge and Dining Table

Up to 12 Passengers